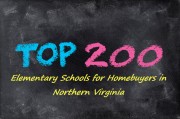 The company continues its quest to rank every public school in the nation for prospective homebuyers with school-age children.
Herndon, VA, September 15, 2015 (Newswire.com) - Cruvita.com continues its efforts to rank pubic schools across the country, with its latest announcement of the top 200 elementary schools in Northern Virginia for the 2015-2016 school year.
With the help of the Cruvita.com school ranking system, area residents can make informed home buying decisions based on the property itself, but also the quality of schools their children would be attending.
"Cruvita.com was developed to help millennials and generation-Xers who have children, are expecting children, or plan to have children in their home shopping experience," .......... "While we believe our ranking algorithm helps any homebuyer, we are focusing on those who have a direct need for schools."

Ariel Mordetsky, Co-Founder
Among the top elementary schools in Northern Virginia, Vienna lays claim to three in the top five. They include Wolftrap Elementary at the top of the list, followed by Westbriar Elementary at #4 and Colvin Run Elementary at #5.
The team at Cruvita.com has develop an algorithm that ranks schools as it relates to homebuyers, but it also acts a valuable tool for real estate professionals as well. Agents can research school districts and use that information to inform their clients. Cruvita.com also has a growing real estate listings database that currently displays property listings from the Washington DC metro area down the East Coast to Palm Beach County, Florida.
Cruvita.com recently reached a nationwide milestone of ranking more than 80,000 schools around the country. For the complete list of the top 200 Northern Virginia elementary school rankings, read: The Top 200 Elementary Schools for Homebuyers in Northern Virginia for 2015​.
About Cruvita
Founded in 2014, Cruvita.com connects families with the best homes in the best school districts with its Cruvita™ School Score. This custom algorithm brings together a number of important factors to determine which schools get the highest grade, and then users can see the homes that are for sale in the school district of their choice.
Search for schools in any area of the country by using the Cruvita.com School Rankings Page.
Share: